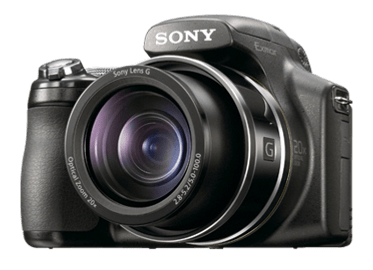 We bought a new camera on Tuesday, the Sony DSC-HX1. We have been wanting a camera with more zoom for a while now.
There have been too many school events where we can see the kids fine, but due to lack of zoom, our camera has failed to capture the scene, or the shot has been ruined by the super contrast of the stage lights making bright spots.
We were also considering the Cannon Powershot SX1 IS, but the deal closers for me were:
The single lithium battery. We had so many issues with rechargeable AA's that I was not keen to deal with the 4xAA needs of the SX1
The sweeping panorama shooting mode is really cool. I love panorama's and having the picture auto-magic stitched is very cool
The HX1 was noticeably lighter than the SX1
There was only a $9 price difference between them, due to Sony lowering the list price by $200NZD  the day before. Which once you take into account having to buy batteries for the SX1 made the the HX1 cheaper
I miss the idea of not having a raw mode, and the ultra swivel LCD on the Cannon would be useful in more situations, but really, the batteries was a major issue.
Part of me was wanting to step-up to the bigger boys 450/1000 Cannons, but price was a consideration. If I use this camera enough and find myself limited by it, then a full DSLR may have to be the next step.
For now I'll continue playing with it a lot, trying out different situations, and learning how to use it.
Having not researched the topic at all before buying, I was pleasantly pleased with the DSC-HX1 review at dpreview.com, with there not being any worst-camera-in-the-world type surprises.