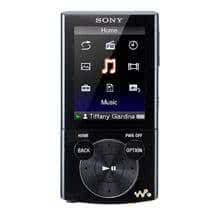 We purchased a Sony Walkman NWZ-E345 for Michaela's welcome to the USA present.
We had some concern once we got home because it only mentions support for Windows XP and Windows Vista on the packaging, and nobody on Amazon had mentioned Mac support.
But never fear it works perfectly with our MacBook, it just appears as an USB device, and you just drag'n'drop like an USB hard drive, and when you disconnect (after ejecting via Finder), it rescans the library.
Michaela really likes it, problem solved (the problems was bad music choice in the car).